Waking up early would usually be a major chore; however this was THE day. Today had been in the planning for almost six months and had been put off for weeks due to bad weather, until now. The excitement had also been building up in the days beforehand, the whole team kept mentioning it in conversation mostly in the form of "Ahhhhh penguins!!!"
We load the van up at the office with all the necessary tools and equipment (uniform, wetsuits, lots of camera equipment, among other things), oh and making sure 'Safety' Will was present and correct. Will and I are then just giggling to ourselves with the thought of the impending sillyness (by this I really mean the most professional of roles,
Folly Farm
's penguin pool testers). When squeezing into our wetsuits in the car park we realise we're only moments away from testing the pool area of the penguin's enclosure.
Following a short pr photo shoot, we 'Celtic Quest Professional Penguins Pool Testers' are given the 3, 2, 1, go! to carry out our thorough inspection. During this process all professionalism was maintained and at no time were we having fun…..as you can see 😀
Following some maintenance and a spot of window cleaning, the testing process involved much jumping, diving, swimming, perching and sliding to make sure the pool was suitably fun to keep the Humboldt Penguins entertained. After several hours of fun and frolics and many an underwater camera shot we head to get some lunch. It's a physically demanding job don't you know.
Well, what a day! Now back at the office reviewing all the footage, reminding us of an awesome day. Penguin Coast at Folly Farm gets a massive thumbs up from the Celtic Quest Coasteering team.
#lovemyjob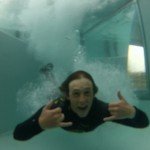 Gareth Chilton
–
Celtic Quest Coasteering
Guide