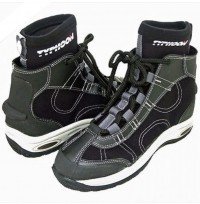 The long awaited final review is here. After months of use the typhoon rock boot is given the thumbs up.
The first pair (from Santa) were going great until the sole of the right boot came off during a coasteering session. Slightly dissapointed i returned the boots to Mike's Diving, they prompty replaced them with a new pair.
The second pair have been excellent.
They have been worn on more than 40 coasteering adventures, in a variety of conditions and at various locations in Pembrokeshire.
PRO's
If the correct size is worn they are snug fitting. This is great as they don't flop about on your feet, even when wet. Very handy when scramble climbing and sea level traversing.
Warm – due to the inbuilt neoprene wetsuit sock. I wear a second pair of socks inside the boots (i tend to get very cold feet, even in summer). This added layer keeps my feet toasty warm, even on chilly January coasteers.
The built in sock is higher up the ankle than the boot, the boot inself comes just above the ankle. This combination provides excellent support for the ankle. It also prevents the ankle bone being knocked.
The hard wearing sole has yet to show any wear. I'm guessing the first failed pair had a manufacturing fault. The soles curl up over the toe, protecting my little piggies from toe stubbing.
Lastly, i have found that one of the first things to go on any coasteering shoes are the laces. The Typhoon Rock Boot has a thick strong lace, again this is showing no signs of wear yet.
CON's
The sole falling off the first pair is an obvious one. However the second pair seem to be standing the test of time.
As the soles are super hard wearing, they are very slippery on wet rock. It took some getting used to as my previous pair of coasteering footwear (Keen Boulder Trainers) gave me spiderman-like grip. A fellow instructor wore the Typhoon Rock Boots twice and gave up on them, as he found them too slippy.
They are quite narrow which fits me fine, however if you take wide fitting shoes these may feel uncomfortable.
SO, overall an excellent choice at a reasonable price. Ensure you get the correct size, too big and they'll fill with water and flop about. If you suffer from cold feet, wear an extra pair of neoprene wetsuit socks. Celtic Quest Coasteering score – 8/10