Wetsuit Boots
Advantages:
Warm, as they are made of neoprene, if fitted correctly they keep your feet nice and warm.
Better for swimming as they don't cause as much drag as trainers or boots.
Some say – better grip and control when scrambling and traversing.  You can feel what's under your feet.
Snug fit means your able to quickly fit a pair of fins over the top.
Protect your ankles from cuts and scrapes due to high neoprene.
Cheapish when compared with high spec watersports footwear.
Disadvantages:
If they don't fit properly, they'll fill with water causing a clown effect.  Very heavy/floppy out of the water.
This extra water sloshing around won't keep your feet warm.
Can be very slippery on seaweed and bare rocks.
As the sole is thin your feet will suffer when crossing sharp gravel and rocks.
The rubber soles don't last long as they get warn down by barnacles and sharp rocks.
They don't offer much support on the ankle.
The upper is soft, offering little protection from crush injuries.
Summary:
If going for this option ensure they fit properly, not too tight or they'll be cold and uncomfortable.
Too big and they'll fill with water, giving you cold clown feet and less control when scrambling and traversing.
Make sure they have a thick-ish rubber sole, firstly to delay wear and secondly to protect your feet from sharp rocks and gravel.
Old Trainers
Advantages:
If old or budget they can be cheaper than alternative footwear.
Depending on the tread design – they can be really grippy on rocks.
Again depending on design – they can protect feet from crush injuries.
Thick sole protects feet from sharp rocks and gravel.
If combined with wetsuit socks, they can be toasty warm as the fastening on trainers compresses the sock onto the foot giving a snug fit.  The high ankle on the neoprene sock protects the ankle from cuts and scrapes.
Disadvantages:
No structural support on ankle.
Cold feet if warn without socks/ wetsuit socks.
Expensive if you go for high spec brands.
Depending on the material of the sole, they can be more slippery than alternative footwear.
Bulky trainers can slow swimming ability due to drag.
Some laves are prone to coming undone.
Larger designs like skate shoes and likely to fall off in rough water.
Summary:
Tennis shoes, plimsolls and deck shoes have a very flat sole with small tread.  They'll prove very slippery on bare rock and seaweed.
Skate shoes – as previously mentioned, are generally ill fitting and heavy when wet.
Some cross trainers have a thick material upper, although they may be lighter when wet the thinner upper will offer little protection for the top of your foot from crush injuries.  They'll also wear out faster.
Approach shoes are one of our favourites as the sole has ideal tread and are generally made of grippy rubber.  Having used various models of karrimor, we have found the sole rubber to be very slippery on wet rock.
Various brands produce a watersports trainer.
Choose a pair that will shed water, yet protect the toe and heel –
'Keen' are a favourite of ours, they have survived 2 years (daily use), are mega comfy, super grippy rubber on the sole.  This pair look like they should go in the bin, but they just keep on going.  Laces in the photo are a replacement as old ones died.
Wetsuit socks are a worthwhile investment.
Beach Shoes
Advantages:
Price, they are available all over the place in the summer at affordable prices.
The rubber sole offers a fair amount of protection from sharp rocks and gravel.
Neoprene offers some warmth.
Disadvantages:
They are generally ill-fitting, fill with water, causing the floppy clown effect, this extra water swishing about can also make your feet cold.  Again, due to the loose fit your feet tend to slide about inside making traversing and scrambling interesting to say the least.
Tend to fall off due to loose fit or pour fastenings.
As the upper material is fairly thin they offer little protection from crush injuries.
They sit very low on the ankle, leaving the ankle bone exposed to cuts and scrapes.
This low design also offers little ankle support.
Due to their cheap design they wear out very quickly.
Summary:
Be prepared to replace them often, have cold feet, little control when scrambling traversing and scraped ankles.
Canyoning Boots
As yet untested, Santa gave us some for Christmas so we'll keep you posted.
We've had good reports from fellow instructors.
5-10 Canyoneer II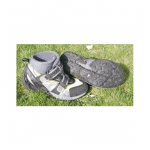 These are an expensive option when compared to the alternatives previously mentioned.
Fellow instructors who have bought/used them, give mixed feedback.
Typhoon Rock Boots
A much more affordable alternative.
We'll be testing these out over the next couple of months and let you know how they do.